Luxor Overnight from Safaga port highlights:
Visit the Valley of the Kings
Visit Temple of Queen Hatshepsut
Visit Colossi of Memnon
Visit Karnak and Luxor temples
Luxor Overnight from Safaga port Itinerary:
Day 1:
Luxor overnight from Safaga starts with pick up service from your cruise ship in Safaga Port by Egypt shore excursion representative, drive to Luxor by a modern air-conditioned vehicle 220 km.
upon arrival to Luxor you will be met by your private Egyptology expert tour guide who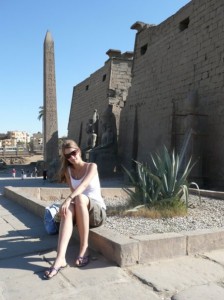 will accompany you throughout Luxor trip to the major attractions
At the first of the day you will explore The Valley of the Kings, starting with Thutmose I and ending with Ramses X, The most famous tomb Tutankhamun's tomb was the first royal tomb to be discovered, move to visit The Mortuary Temple of Queen Hatshepsut at Deir el-Bahri, Hatshepsut was a rare female pharaoh her temple, known as Djeser-Djeseru Splendor of Splendors.
Proceed to enjoy a tour to the Colossi of Memnon which has two massive stone statues of Pharaoh Amenhotep III.
For 3,400 years they have sat in the Theban necropolis, across the River Nile from the city of Luxor.
The original function of the Colossi was to stand guard at the entrance to Amenhotep's memorial temple or mortuary temple,  cross the River Nile by motor boat to the East bank for lunch meal, Then transfer to your hotel in Luxor for check-in and overnight stay in Luxor.
Day 2:
After breakfast at your hotel in Luxor, start your wonderful excursion to visit Karnak and Luxor temples with your private Egyptology expert tour guide, lunch meal will be served at a quality restaurant in Luxor, The last part of your Luxor trip will be a shopping opportunity in case you are interested to pick some souvenirs for family and friends, comfort back to Safaga Port with direct transfer to your Cruise ship.
Luxor Overnight from Safaga port Includes:
Pick up services
All transportations by air conditioned van
Tour to Karnak, Luxor & Hatshepsut Temples, Valley of the Kings and Memnon
Accommodation for 1 night at hotel in Luxor
Egyptologist guide with your own language
Entrance fees
Lunch meal at local restaurant
Mineral water on board the van and during the trip
All services charges and taxes included
Luxor Overnight from Safaga port excludes:
Tipping kitty
We hope that you will enjoy your Luxor Overnight from Safaga port.